Happy Friday geocachers and outdoor enthusiasts.
It seems we're blessed with another sunny & crisp weekend ahead, so I hope you all have some great plans lined up. If you do, make sure to
drop us a line via our new and amazingly awesome Facebook page
and let us know what you're planning, or what you got up to - we love to hear and share your stories!
Police Dogs and Mustard Containers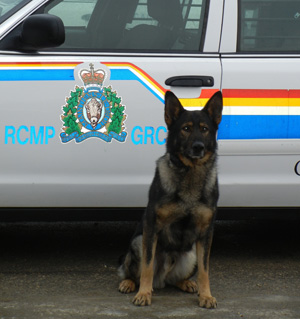 This morning while walking Piggy I was listening to a recent episode of
Sonny, Sandy, and Sean on Podcacher
. About halfway through (
30 minute mark of Episode 445
) the hosts read some listener feedback, as they frequently do. As it turns out, the listener feedback today was from local geocacher dora_mor, sharing a story about geocaching & law enforcement run-ins from the logs of the
Mustard Container Cache
in Surrey.
Turns out, the logs are from local caching friends Professor P & Groovy Owl - yup, of
WorldCaching
fame - and detail their adventures at this geocache that clearly made for an unforgettable night out caching. It's worth a listen to the story!
Christmas is Just Around the Corner...
"Actually, it's down the hall, third door on the left." - Howie Mandell.
Perhaps you've noticed that Christmas shopping season starts earlier each year? Well, perhaps it doesn't, but it sure feels that way! If you've got a Geocacher on your shopping list, or you're putting together your own wish list, we'd love to hear what ideas you have and share them.
Here's a short list of things we at LMGA HQ can think of to help get things started.
Ogio Flight Vest
Almost ever event or caching trip we do, I (Mr. LANMonkey) will be decked out in my signature "geocaching vest." I've had many people ask about it, and frankly, it really is much handier than having a backpack, and carries at least as much as most day packs. The vest I have is the
Ogio Flight Vest
. It's kind of hard to find, but check at motorcycling shops, as technically Ogio markets this as a motocross or snowmobiling vest. The variety of pockets is amazing, and it comes with a removable hydration system as well, so it truly is the all-round awesome caching accessory. It runs about $140 US, so it's not cheap, but I've had mine since 2009 and it holds up amazingly well through some pretty extreme conditions.
FRS Radio Set
Really a core piece of outdoor safety equipment, but these have proved extremely useful not only for geocaching, but for many other functions. In the current days of cellular phones being omnipresent, the FRS radios have fallen out of vogue somewhat, but this is to the advantage of FRS users - there's fewer people clogging up the channels, and the range on the devices has only gotten better. In a perfect situation, you'll have a cell phone & FRS, but it's worth the investment. We use the
Motorola MH230TPR
which can run around $100, but there's less expensive options available.
If you have other ideas for awesome geocaching gifts of a technical (or perhaps more "practical") nature, please share them through comments or feedback to
our Facebook page
or this blog. Thanks for reading, and remember -
"Cache safely, and cache often!"
The LANMonkeys